On Saturday, June 24, 2023, we held the second part of the II International FI Youth Meeting, which continued under the motto "GO… GO!"
We were very happy to receive the testimonies of the young people. One for each province. They expressed with authenticity, depth, and commitment that helped us all, their experience of God, their search for what fills their lives, and the meaning of life, the reality of many young people today. The commitment to the most needy, the help and evangelization of young people for young people.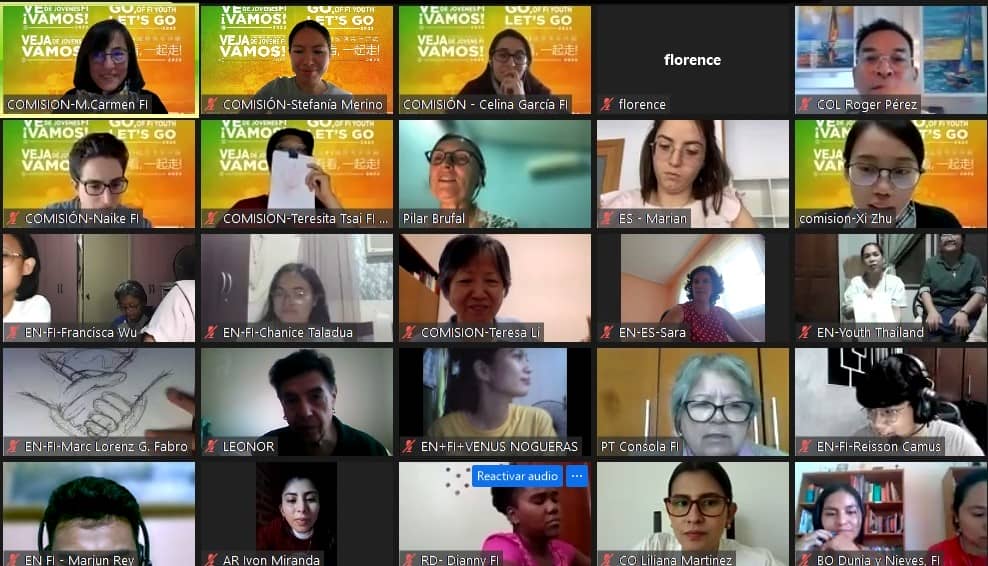 Their testimonies, together with a deepening of the motto, laid the foundation for what was the central part of the meeting, the groups of young people from different countries to meet, share and search together. It was "quality" time to be able to do up to three rounds of listening with the questions:
FIRST ROUND: 1- FI Youth: young people who in some way share the charism and mission of the Hijas de Jesus, the congregation founded by Mother Candida Maria de Jesus.
Who am I, where do I come from, what unites us?
SECOND ROUND: 2- Go… "Jesus continues to call young people to live life with meaning" (Appeal n. 7 in Apostolic Action, GCXVIII).
What gives meaning to my life today?
THIRD ROUND: 3- Let's go! "Young people themselves are agents of youth ministry, accompanied and guided, but free to find ever new ways, with creativity" (Appeal n. 7 in Apostolic Action, GCXVIII).
What inspires you and what does this phrase commit you to?
And it was concluded with a sharing of the feeling or emotion with which each one remained.
With all that was shared, we arrived at another space of Encounter, the encounter with God, which was the prayer and gesture of sending. We live it with serenity, depth… very much of God incarnated in life, who moves us to follow Him and give Life. We send with our prayers to WYD, to live it to the fullest, those who are going to attend in person, and each one of us from wherever we are. And again, with strength, by Provinces, with joy we said to each other, together "GO… GO!"
Our final thanksgiving also carries with it the desire that has been with us since we began preparing for this meeting and which we repeat again today: we wish that the "GO… GO!" of the FI Youth resound throughout the world and be a leaven of the Gospel wherever we are. THANK YOU!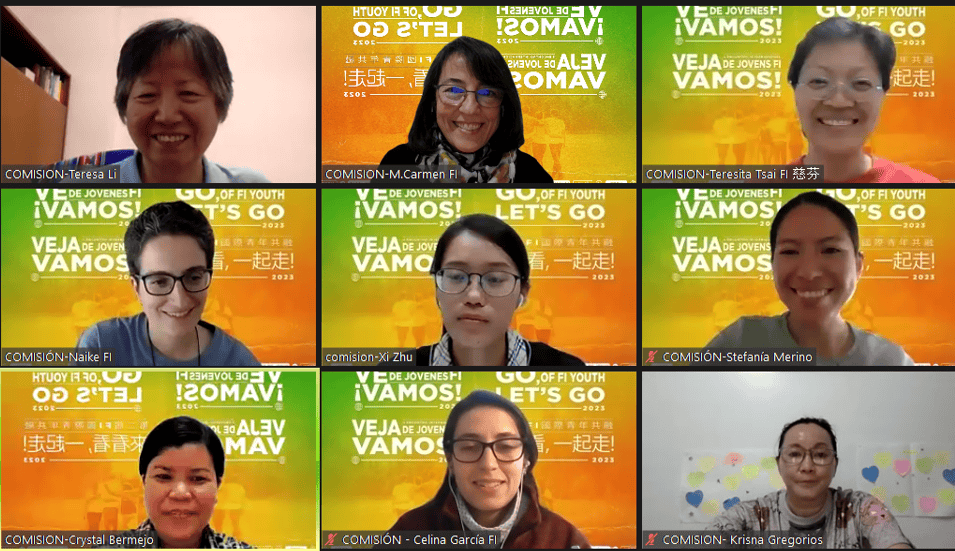 Commission for the II International Youth Meeting