Myitkyina is located in the northernmost state of Myanmar with international borders connected to China and India,  People in Myitkyina are called Kachin.
In January 2020,  there were 96,656 Internally Displaced people, living in 139 camps.  Myitkyina diocese has halped a lot the IDP's together with JRS. The Diocese has hosted  hosted IDP's since 2011.
I arrived in Myitkyina Kachin state Myanmar  in November  27, 2019 to accompany Sr. Pilar Brufal, who had been working with JRS (Jesuit Refugee Service) for two years . While accompanying Sr. Pilar, JRS asked me to work at TTC or Teachers' Training center in the camp as mentor and coach to the local management staff. My experience with the young people from the different dioceses of Myanmar was very challenging. I gave them spiritual formation session once a week and taught them organic backyard gardening aside from helping and mentoring the TTC staff. I gave catechesis class also to them and help them be aware of the importance of the sacraments.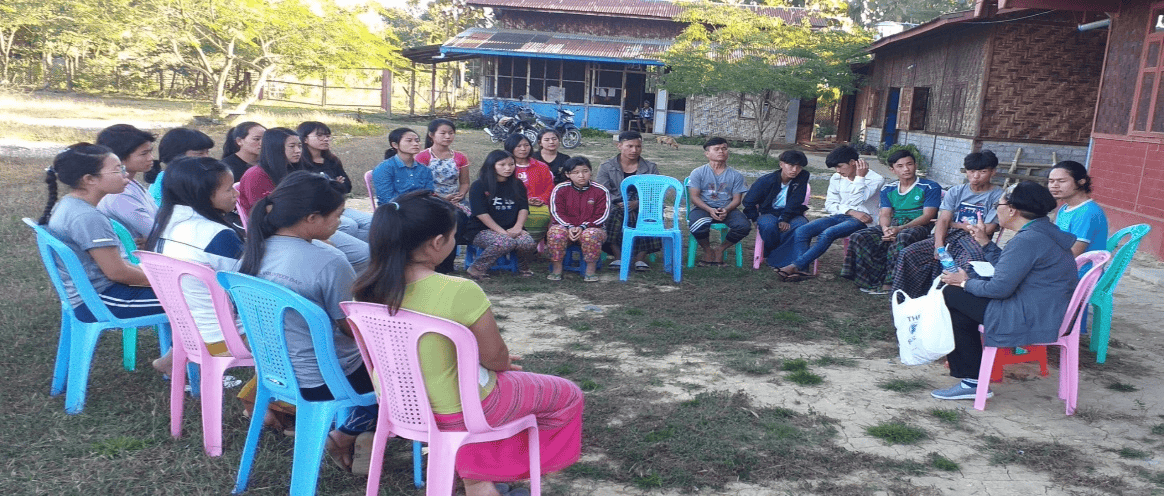 Even if my work was focused more on the psycho –social accompaniment of the teacher participants at the Teachers' Training Center, in the camp, I had the chance to visit families in the different camps to share with them some techniques on organic farming since their living depends much on agriculture.
Looking back at my four months working with JRS in Myanmar, I can still remember the images of the forcibly displaced men and women who reminded me of God's  presence. The lay staff who have worked hard for their own people, still come to my mind especially at these times of crisis in Myanmar.
Recalling my encounter with the IDP's, I found out and realized that the best thing I had done was treating them as normal people and discovered that the language of smile was what they needed at that moment. A simple gesture of smile and listening to their joyful or sorrowful stories was surprisingly more rewarding than giving out material things to them.
I have seen a lot of worst situations of poverty and I was surprised to discover their differences of need. Every context has its own need in terms of poverty.
Working with the IDP's was very challenging for me. It takes humility to be under a very organized JRS team in Myanmar. I am so humbled looking at the serious commitment of the lay people serving the IDP's. Working with different lay and church groups, and with other congregations was very challenging too especially when you have different cultures and views. I experienced no barriers even working with Budhists  and  Protestants.
Bringing  to mind my experience, I say My gratitude to God is great. I thought for a while…They may need money, food and other material things but deep inside I can perceive that the most important thing I can offer them is time. Giving time is giving them HOPE and encouragement to go forward. I was so much challenged by their HOPE. I see them as resilient individuals who can absorb and overcome adversity in its many forms, and this quality describes many of the IDP's. Hope for them  is a virtue and a perspective, a grace that allows them to live today believing in a future neither clear nor certain.
I was blessed to experience hope in many forms in that four months of work with JRS. I really appreciate Jesuit Refugees Service (JRS) Myanmar for allowing me to experience such a challenging life with the people amid suffering and displacement.
I thank Mo. General for giving me that opportunity and the trust for allowing me to accompany Pilar and worked with JRS at the same time.
I thank Indico Pacific province and the province of Asia Oriental for the support from the time I went and came back to the Philippines amid the pandemic. For all the prayers of my sisters, for being part of Thailand-Myanmar community  for four months. Thank you so much. Blessed be God!
My gratitude to God is great!
H. Mary Juelar, FI
Hijas de Jesus Center, El Salvador – Misamis Oriental (Filipinas)