International Meeting of Daughters of Jesus in Initial Formation:
"… invited and responsible for a new premiere…".
On September 4, according to the schedule planned for this time of celebration of the 150th  anniversary of the founding of the Congregation, the meeting with the Daughters of Jesus in initial formation took place.
It has been a unique moment, very prepared and expected by all. Happiness, joy, gratitude… Universalism, trait, and dream of Mother Candida, have been very present and have been expressed in the various faces, languages, cultures, sensibilities… How diverse! No doubt the world is very small. We had three moments.
FIRST MOMENT: Greeting and the vocational call.
We went little by little entering the "room"… We were finding each other and putting on a face. There were general government, formators, and formands. There was a climate of great joy and enthusiasm.
Graciela Francovig, our Superior General, and Sonia Regina, General Councilor in charge of the of Formation, addressed us with the words of welcome. Then Leoly Quitorio, Mistress of Juniors for the Indico Pacific continued. Then we went greeting and introducing one another.
Next, Melba Neris, Postulants in charge, led a moment of prayer. It was a time to recognize and thank God for the vocation received. A song, a Word of the Gospel, and a letter from Mother Candida.
"Jesus, I will follow you… in your name, I will cast the nets."  What is God's Word for me today?
He boarded one of the boats; it distanced him from the people; came out of the shore; began to teach people; the deep part; cast your nets there; we've been working all night; since you send it I'm going to cast the nets; nets were broken; I am a sinner; they were frightened; do not be afraid; from now on you are going to catch men; they left everything and went with Jesus; May this Word become the Word of God for me today…
What word does Mother Candida address today to the formands?
Formation is a propitious time to know Jesus, to learn to pray, to know the Congregation, and to be known by the Congregation.
In the time of initial formation, we are feeling and confirming that the charism of Mother Candida is a gift that is given in our life experience and we are wondering and confirming if this is the path in which we and God dream of us. Here, we learn what it means to be the true Daughter of Jesus, to live filiation and fraternity, to have Him as Father, and to live as sisters wherever we are sent.
.
SECOND MOMENT: Group Reflection
Francisca María (Chica), Mistress of Novices introduced us to this moment of group sharing to respond to the two questions: 
–What does the charism of Mother Candida evoke in me in this church and universal world?
– How can the charism still be alive today? How to promote it?
THIRD MOMENT: Graciela's words and RECAP of the meeting.
Graciela's words and collection of the meeting.
Back in the "room", Mother General was helping us to make a tour of the documents and invitations about the charism, the Congregation, and the Church.
See told us about the Congregation, reminded us that we are at the beginning of the formation of the Daughter of Jesus, and we will be in formation all our lives. Our vocation is to resemble Jesus; may He be the center of our affections, relationships, and decisions. Therein lies the process. She also told us:
We were invited by the Lord to follow Him in this way of life in the Church, that of being Daughters of Jesus, true Daughters of Jesus… I feel grateful and happy for each of you. I ask Him and the Congregation to help you progress in your vocation…
The charism of Mother Candida is a gift. Filiation, our seal in the Church. As Daughters of Jesus, it is to be a Daughter in the Son, with the Son, as the Son. Jesus is our reference for everything. Mother Candida has stood out for her faith and her trust in God because He was her Father and she expected everything from Him.
It has been a joy to meet, to see our faces, and to hear our life experiences. We receive a new invitation to walk with Jesus as his true daughters.
Thank you to all of you who have made this meeting possible.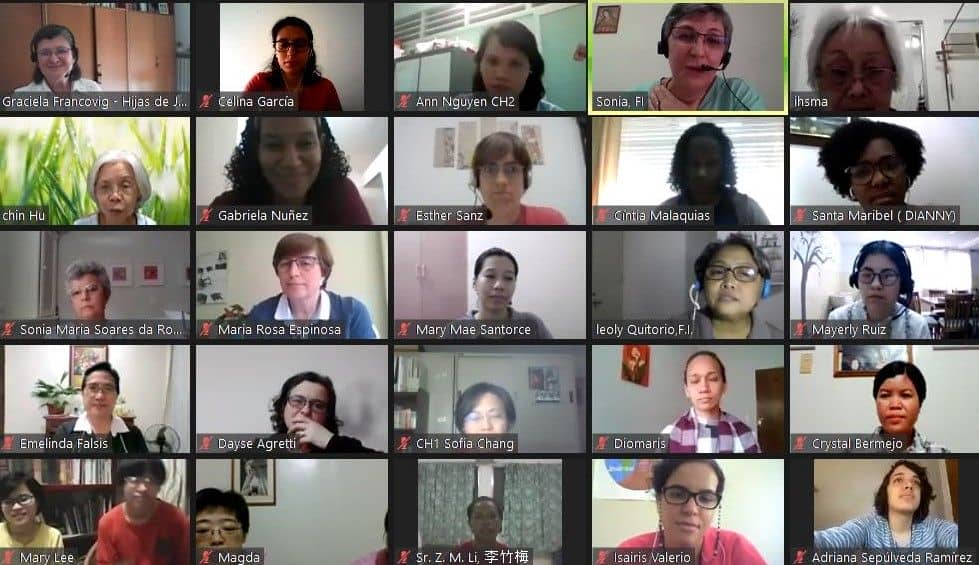 Celina García, Juniora de primera etapa. Argentina.
From Spain, Esther Sanz, also shares her experience of the meeting.