TESTEMONY OF A FATHER
As we all know, at dawn of last Sunday March 19, the flames appeared in a classroom of our beloved Santa Maria de la Paz "Jesuitinas" school in Murcia.
The Director, Mr. Antonio Grau, suspended classes for two days to evaluate the safety of the building and proceed with cleaning.
But what he did not know was that he was going to lead another one of the moments that will come to pass in the history of the more than 50 years' existence of this emblematic school in our Region with so many generations that have passed through its classrooms.
It all happened on Monday, when I as a parent approached to see if I could help with anything, and I had the privilege of witnessing something that thrilled me.
The image was Dantean … twisted irons, sagging walls, broken glass on the floor and the darkness of the smoke impregnated on all the walls. But in the midst of all that darkness there was a light that shone above everything else, … above the material.
The Director greeted me with sooty hands and clothes, with the calm of a ship captain in the middle of a storm and with a kind smile, soothing and reassuring. His first sentence was, "Your kids will be back to school on Wednesday, this is not going to slow us down."
All around us were a multitude of people wearing masks working on cleaning jobs, suffering the penetrating soot in their lungs and with their faces, clothes and hands begrimed as well. It took me a moment to realize that hidden behind these masks were teachers, administrative staff, beadles, … all fired up!. Defending their classes with passion, affection, enthusiasm … and everything with the purpose of receiving their 1200 students at all costs.
I have always said that a problem is always an opportunity, and this is a clear example. In the face of an event like this you have shown us the solidity of a united team, effective, motivated, with defined goals … and most importantly … defending your values.
Teachers, those two difficult days demonstrated to us all how important you are to every one of us. You educate our children with the same strength and tenacity in the face of obstacles such as you were hurdling in those days. You educate our children with the strength of values in the best way they can be taught … by example. In an instant I found myself surrounded by work, effort, leadership, struggle for a goal, solidarity, trust, help, teamwork, positivity, joy, companionship, passion, … values personified in your actions. That, Teachers, does not come in the books, you unleash them with your daily good work.
On that day you lost books, the administrative computers to carry out the preregistrations of the new term; the beadles lost their tables which they have moved so many times from one place to another, … but you gained much more, the respect and gratitude of each of the children who have passed through your classes, and of each of their parents; working in a school renovated and modernized after the rehabilitation that will be done and something you do not know yet, but which you will perceive over time: the creation of a bond of union among yourselves that will make that dear school "Jesuitinas", that teaches with a high commitment to quality but above all with values, grow even more, if possible.
Dedicated to all those people who chose to dedicate themselves to this vocation, from a grateful father.
Video of the resumption of classes
The center's teachers have lined the walls with paper and frescoes to cover the blackened portions, while they can not paint. Today classes have started normally.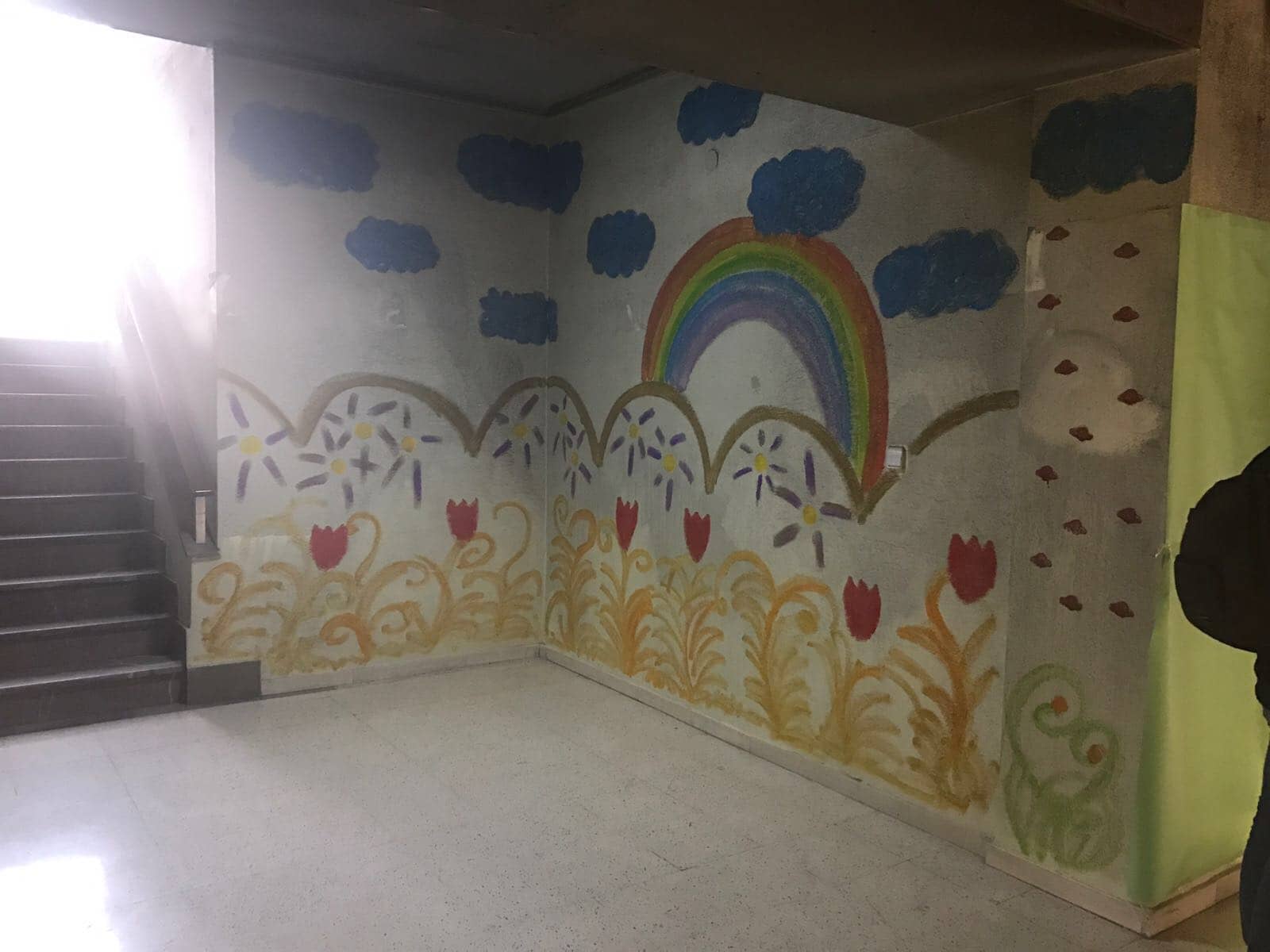 This photo below is an arrangement of the second. It was made by a professor after moving the image of Christ that lay on a few sheets of paper. It is an image of Christ that he kept when a crucifx was broken.