For many years, I have had a close relationship and good friendship with EMILIA GÓMEZ VILLA, a Spaniard, already nationalized in Colombia. And on my way these days through Bucaramanga I went to visit her. It was the least I could do as I was passing almost by the doorstep of her house. I had not been sufficiently aware that she was a graduate of one of our schools in Madrid – Calle Ayala 42 corner Velázquez. With great emotion and affection, I took the opportunity to do this little interview. Neither had I noticed the beautiful and meaningful image of Murillo's Immaculate Conception presiding over her house.
Where are you from? Well, I was born in Murcia, but we do not live there. Today I say that I do not even know it because I was very young when my parents came to the capital of the country. That is why I consider myself from Madrid, because it was where I grew up and lived the life I lived in Spain, much shorter than that I have already lived in Colombia. I came in the year 1963 just married.
When were you in Ayala, what memories do you have? My father was advised by a Bishop of Madrid, a friend of his, who was the one who recommended the School of the Jesuitinas [Daughters of Jesus] for me. And there I was educated all the time. Happy in general. Accompanied by the Sisters of the time with whom I was able to develop my talent and fondness for music. Especially Mother Dolores who accompanied me to the conservatory and until I graduated in piano. Music that, over the years, I discover is my everything.
What is the significance of that image of Mary Immaculate who presides over your house today? It was a family image. My parents were also people of faith, who loved the Blessed Virgin, and this image has always accompanied us. My father died in Spain before I got married, and later, coming with my mother here, we brought our things; and this Virgin Mary accompanies us until today and I do not doubt that she will accompany my children too. She unites us with so many people …
How did you come in contact with the FIs in Colombia? Well, I came from Madrid to a town of Santander called Socorro. My husband, a Colombian national, was a doctor. Then we settled in Bucaramanga and became friends with another doctor, who was the husband of a sister of yours, Teresa. The friendship grew and I learned from you that the Jesuitinas, as we called them in Spain – I do not know now – were in Reina de la Paz.
Do you remember anything about Mother Candida? Of course! I keep the religious prints that the Sisters gave me at the School in my breviary. And I believe that their simplicity, their closeness, their trust in God, their joy and patience, in the midst of difficulty, have come down to my life because they are values ​​that I believe they have managed to embody more. I do not doubt that she is our protector and that of the whole Congregation. I was very happy when I learned that she had been canonized.
What does music mean to you? I have already said that it is my everything. That which relates me with God, with my family, with people, in the joyous moments and the departure of loved ones. With my countrymen here. I have played in several funerals as well. Among them, I remember the passing away of your parents, Teresa. Music allows me to express what is deepest in me, despite my age today. I am very grateful that all my children also got this passion for music and I was able to help them to be schooled in it. Music was also the source of my work and service in Colombia, where I taught young children to university students. I finished my active working time being a professor at the Autonomous University of Bucaramanga, in the Faculty of Music.
Were you able to educate your children with the Daughters of Jesus in Colombia? I took my daughter Yazmina, because at that time it was a school for girls only, and as she was of small stature, when she passed to high school, the Mother Rector of Reina de la Paz thought that she was too small and had to repeat the school year. Which I did not understand, and although I was happy I took her to another school because I did not consider it appropriate that she should lose a school year, just because of her height. I would have loved her to graduate from there as I had, but that's how things happened.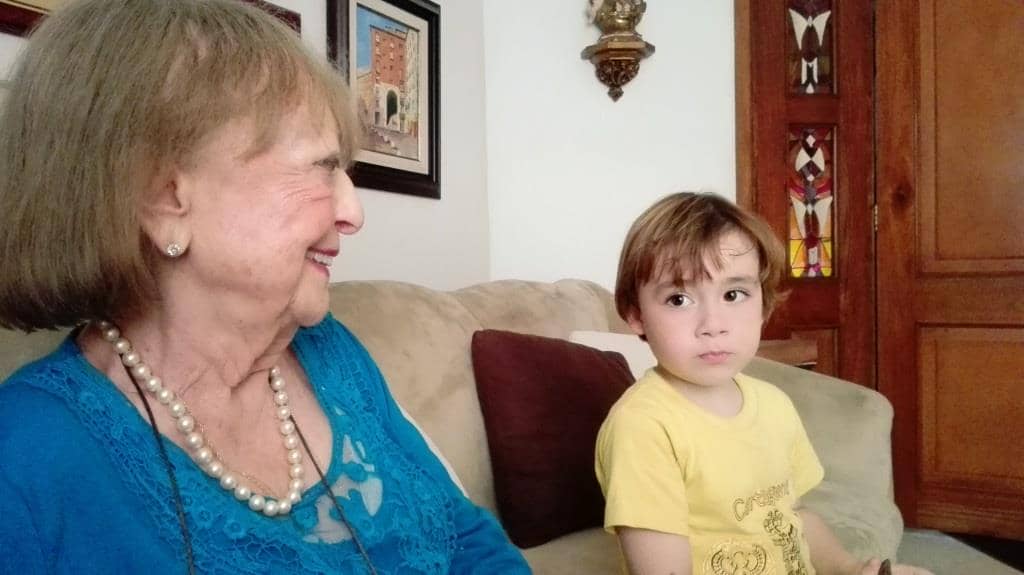 What has it meant for you to leave your country and settle in Colombia? We must go back to the times. I arrived 54 years ago in this country. Where things were very different from today, in various fields. To small towns of Santander such as Socorro and then Oiba, where my husband was assigned in the Hospital. The beginnings were hard for me but having been fortunate to come with my mother who was a cheerful and big-hearted woman, it helped me to adapt to everything, welcoming what came as it was, without making anything a problem and assuming values. I have three children, several grandchildren and the smallest one who is 4 years old today is a gift from God. He is the joy of our home. I think that among the grandchildren, he is the one who is going to inherit the music. I already teach him piano, violin and when we have family reunions, it is a joy for him when I play or when we play something together.
And at these times of your life, what do you most yearn for? Peace, that deep serenity that keeps us standing in all circumstances, because only God is the One essential. Only with Him can one live the difficulties that life brings us, without losing joy and hope. May my children and grandchildren find more and more the paths of true happiness. And that Colombia may be a nation of true peace. It deserves it!
By Teresa Ramírez fi