On February 14th, in her circular letter No. 15, our Superior General communicated to us the closure of our presence in  Montevideo, Uruguay because although it is news of the province of Andean America,  it affects the whole  Body.
We have asked the  Daughters of Jesus who have been there to tell us something of what these 10 years have been.
We arrived in Uruguay on February 16, 2010. Two Jesuits were waiting for us there: Juan José Mosca and Marcelo Amaro. From the Tres Cruces terminal, we head towards the   Sagrada Familia parish house located in Luis Alberto de Herrera street, next to the Manresa spirituality house,  where we stayed until June 16 of that same year since from that date we began to rent a small house near the parish Of St. Ignatius and the Colegio San Ignacio-Isasa,  since much of our pastoral life was developed there.
We went to Uruguay with the aim of working in collaboration with the  Jesuits in the youth ministry.   This goal had a lot of evangelical
fertility. We work collaboratively in different fields: Parroquia    San Ignacio, Colegio San Ignacio-Isasa, The  Ignatian Youth Network, the diocesan Youth Ministry since we had the opportunity to share the Spiritual Exercises with young people from different parish through the young Church of Montevideo, the communities of the Christian life,  personal accompaniment to young people, etc. Our house gradually became a reference place for young people, which challenges us to make our house a place where young people would make an experience of the  "Come and see".  This led us to offer weekend retreats.  Celina Garcia, current junior sister, lived in our house for six months and then a  French volunteer lived for a  year. In addition from 2012 to the end of 2014, this presence was a  house of formation, postulant stage.
We have accompanied many young people in their vocational discernment.   What gave us back and returns young people is that we are a  different, more open,      closer religious life presence, with the ability to see and hear the needs that arise and be responsive,  dynamic,  creative.
That goal was maintained during these  11  years of presence.
While that was our goal we did not know that  God had us set aside a  second goal our presence among the poorest.  This is concrete through work in  Faith and  Joy in different centers of critical contexts,  marginalization, and vulnerability.   In  Fe y  Alegría we were present from 2010 to early  2019. From   2019 until today the  Lord showed us that this goal had a new face "migrants", many of them living on the streets of Montevideo,  others in state shelters,  etc.  
Uruguay has been a  presence with two faces:  Young and poor.
Why this closure? To explain it, Graciela collects the words of the Provincial Superior,  H. Dayse  Agretti,  when she communicated it to her province.
By different circumstances and already on occasion we had considered as a  congregation the continuity or not of our presence in  Montevideo. Between the end of last year and this year,  our Superior  General betting on continuity, considering the pastoral wealth that the place provides and that tunes with our apostolic calls,  sent two sisters  – from other provinces- and with the right profile for the project with young people.  
… The global situation of the pandemic significantly altered our lives and plans,  coupled with health situations.   These real facts that life offered us,  made us reflect as the provincial government and placed us in dynamics of discernment in the face of this situation: The circumstances of times and people incline us to think that we cannot sustain our presence there.
The Superior General,  with the data  I  have presented to her and after considering it with her government, has decided to close the community of Montevideo and therefore leave Uruguay.
We appreciate, says Graciela at the end,  the 10  years we have been present as  Daughters of Jesus in that country, and the vocation that that country has given us in the junior , Celina García, and also the different  Daughters of Jesus who have passed through that community. The exits and closures are always some pain. I  invite you to live from gratitude and hope that the  Lord makes things new.
The sisters who were assigned to Uruguay have been sent to their provinces of origin,  where they will go as permitted by the current limitations of mobility between countries.
María del Carmen Jiménez Correa: she was waiting for the possibility, which did not arrive, to travel to Uruguay. At the moment she is sent, for a time, to the General Curia to work on the international animation of the Call for the Apostolic Action of "young people" together with Councillor  Teresa Li, who is in charge of this field.
Consolation de Matos:  sent from Uruguay to  Brazil.
Immaculada Eceizabarrena: from  Uruguay to  Spain.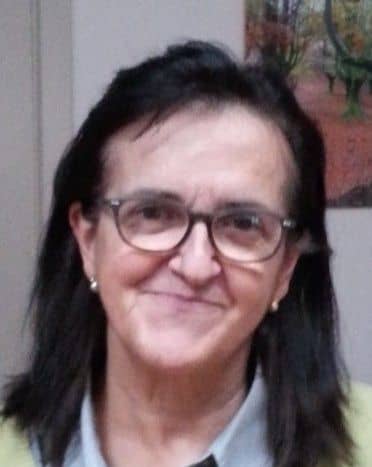 In this  same letter  she  communicates   the  appointment  of Superior of casa Curia.
Ana Ma Baeza,  who is already in  Rome,  serving as secretary of the    General Government,  has now been entrusted with the mission of local Superior of the  Curia.
And it shares the good news that  Pilar  Brufal is already with the documents in hand to carry out her visa procedure for  Thailand.
It ends by encouraging  us  to  pray  for  these  sisters and    each  other:
Let's pray for these sisters and their shipments.   As long as we maintain availability and welcome this time that is presented with these characteristics. "… let us remember the  One who humbled himself, made obedient to death,  and death of the cross,(Phil. 2,8).  In this time of conversion let us renew our faith,  quench our thirst with the living water of hope,   and receive with our open hearts the love of God that makes us brothers and sisters in Christ"  (from the  Pope's Message of  Lent).
Let us not forget to pray for each other,  especially for those who were most affected by pandemic deaths.  May the union of one another help us to keep firm and safe the lamp of faith,  hope, and charity.