Last June 29, 2022, the Solemnity of Sts. Peter and Paul, Apostles, Sisters Caridad Ramirez and Gloria Amparo commemorated their 50 years of Love and Commitment in the Service of the Lord in a Eucharistic celebration at Manresa Retreat House chapel in the presence of the Sisters in the Manresa Retreat House compound, and a few friends and guests.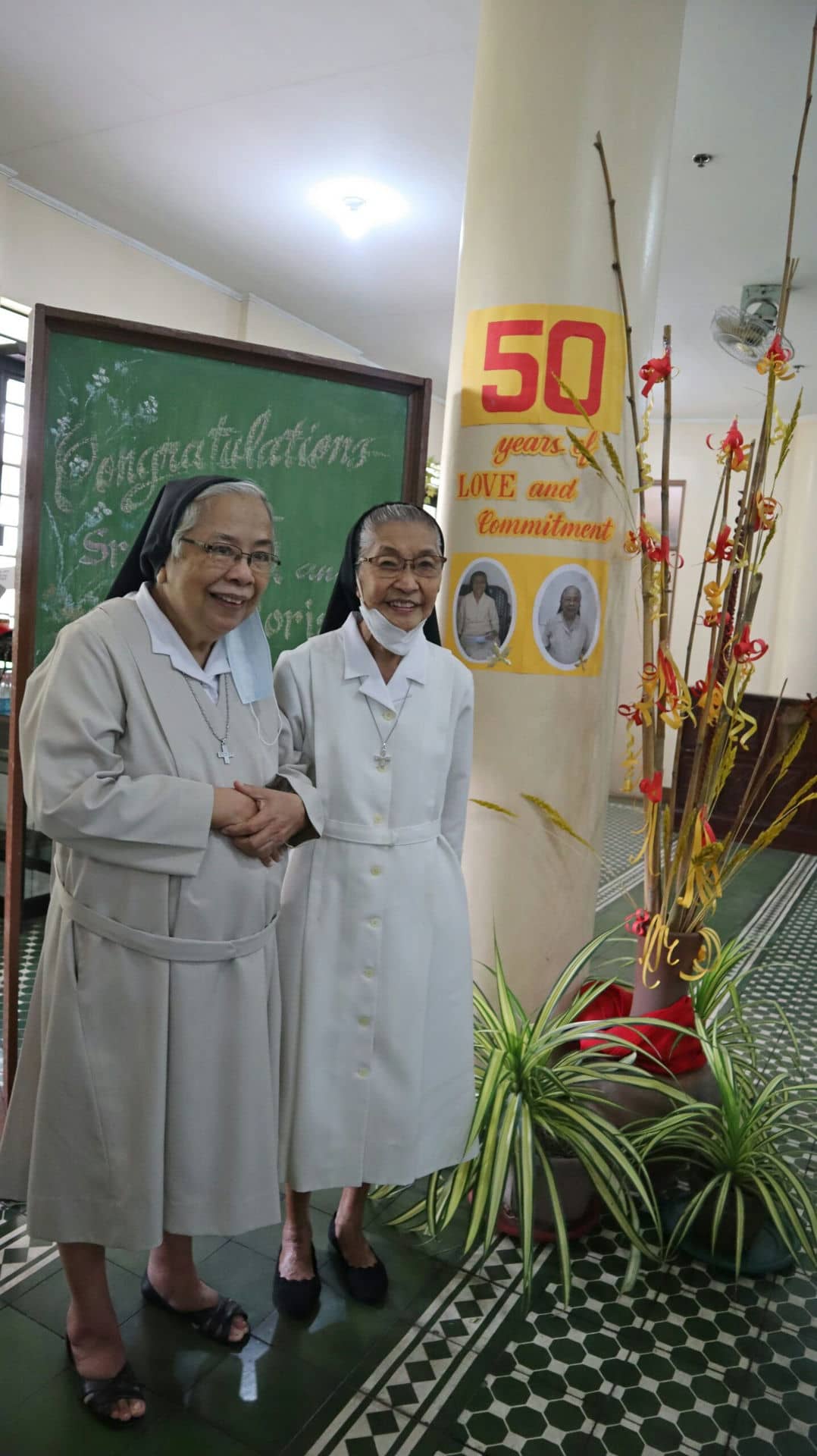 In the introduction, Sr. Caridad said:
"Golden Jubilee is a very significant event that connotes a very special stage in the life of a person, that brings to memory the different milestones that led her or him to its golden peak. As Sr. Gloria and I celebrate today the Golden Jubilee of our vowed life as Hijas de Jesus, we vividly realized the wonderful and interesting Journey that we went through in the history of our vocation. In the course of our intimate encounter with the Almighty Lord, we saw clearly how His hidden hands had been wonderfully and amazingly operating behind every step of our journey. God´s assurance of His love for us was very strong and consistent, showing us His unfailing fidelity in enlightening, guiding, accompanying and leading us towards the fulfillment of the vocation He had called us to embrace."
In her word of thanks, Sr. Gloria expressed:
"Our hearts are overflowing with indescribable joy and profound gratitude above all to the Almighty God. Our retreat experience intensified our awareness of the many precious gifts that we received from the Lord and acknowledge the marvels that He had done for us. In this Holy Eucharist, we are wholeheartedly grateful to the Lord, the gracious Giver of this Golden Jubilee gift, because of His unfailing fidelity…, and to all people who are instrumental in our growth as to become what we are today".
Rev. Fr. Darren Lopez of the Diocese of Bolinao, Pangasinan, an ex-alumnus of Nazareth School, Manila, officiated the Mass for the jubilarians. He was a former pupil of Sr. Gloria Amparo when he was in Grade 2, and during the homily, he reminisced his beautiful memories as a student, enumerating the sisters who were then teaching at the school and were present during the celebration. He said that he owed his vocation to God, to the Sisters, to Mother Candida and to the priests, who celebrated the Eucharist in school during that time. His sharing gave a familial atmosphere to the assembly and a special essence to the celebration as he offered his blessings and special prayers for the jubilarians. Sr. Caridad ended her words with this beautiful and inspiring message of Mother Foundress:
"My daughters persevere in your holy desires at this stage of your life and trust unconditionally our Lord Jesus and our Most Pure Mother who will not fail to grant you the graces to satisfy the longings of your hearts".
After the mass, the assembly gathered at the Manresa Retreat House Dining hall in a familial and festive feast.